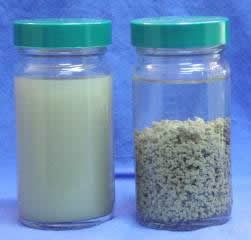 Tigerfloc Flocculants - Dewatering Agents
All-Terrain Consulting Ltd. – Canadian Tigerfloc Distributors
The Tigerfloc line of flocculating agents is a series of many products custom designed to remove contaminants from wastewater. These include: BOD, TSS, Heavy metals, Inks, Pigments and Dyes, Emulsified Fats, Oil and Grease, Phosphates, and helps reduce TDS and EC's vs. other chemistries.
The Tigerfloc Agents encapsulate the contaminants in strong floc, producing a waste sludge that easily dewaters; the treated water can be reused or discharged directly to sewer.
Process time is also greatly reduced resulting in fast wastewater treatment and thereby increasing your throughput. The dewatering machines also available from All-Terrain Consulting Ltd. that are used with Tigerfloc can handle up to 250 gpm!!
These Tigerfloc flocculants can be used in industrial waste water treatment, as well as in erosion and sediment control situations (on construction sites) when clarifying water prior to discharge off-site. Tigerfloc can also be incorporated into pump-and-treat systems.
All-Terrain Consulting Ltd. visited the manufacturer and saw the incredible results when using Tigerfloc as compared to other flocculant agents. Many industries have switched over to Tigerfloc now, as its quick action on hard-to-treat waste water, and better cost make it the most effective flocculant on the market.
Call us at (778) 230-4174 for more information.